AFI VS-3SD PRO 3-Axis Handheld Gimbal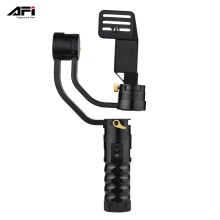 Features:
VS-3SD PRO is a portable photographic 3-axis handheld gimbal which adopts 32-bit controller and dual-sensor control augmentation system.
It can help you shoot more professional, perfect and smooth effect also make the shooting more convenient.
Whatever for family gathering, promotion video, film, or in the various conference or athletics scenes, VS-3SD PRO will help you reach the professional shooting easily.
No matter for following shooting or multiple occasions shooting, you can switch modes by one key and control three-axis direction via five-way joystick.
Max. load capacity is 1700g, supports most scroll series cameras, such as for Canon 5D, 6D, 7D + 16-35 f4.0, 24-105 f4.0 lens and etc; Support large micro-mono-camera and lenses, such as for Sony A7 series + 24-70/16-35, for Panasonic GH4 + 12-35/14-40/7-14 and etc.
Also supports ppm remote controller, so as to realize wired / wireless remote control.
3/8" extended port design in the bottom can help you match different accessories (tripod, monopod, jib crane, slider and etc) so as to meet different shooting needs.
Specifications:
Brand: AFI
Model: VS-3SD PRO
Max. Load Capacity: 1700g (camera+lens)
Compatible Cameras: For Canon 5D, 6D, 7D + 16-35 f4.0, 24-105 f4.0 lens and etc; Support large micro-mono-camera and lenses, such as for Sony A7 series + 24-70/16-35, for Panasonic GH4 + 12-35/14-40/7-14 and etc.
Max Angle Range: 90-180°
Range of Panning Axis: 360°
Tilting Range: 355°, ±180° is the available range use under gimbal operation
Rolling Range: 355°, ±60° is the available range use under gimbal operation
Power: 3 * 18650 3.7V 2600mAh battery
Working Time: About 2 hours (According to the actual operation conditions, it differs as per the camera weight and power setting)
Electrical System: 3-axis brushless motor augmentation system
Item Size: Height: 30cm; Width: 17.5cm; Depth: 16cm
Item Weight: 978g / 34.5oz
Package Size: 41.5 * 22 * 10.8cm / 16.3 * 8.7 * 4.3in
Package Weight: 2075g / 73.2oz
Package List:
1 * VS-3SD PRO 3-axis handheld gimbal
1 * Battery holder
3 * 18650 battery
1 * Micro USB cable
1 * Compatible adapter base
1 * LED USB light
1 * Charging plug (US plug)
1 * Straight Screwdriver
1 * Carrying bag
1 * User manual (English & Chinese)